Jamco Aerospace Inc. is a woman owned minority small business founded in 1967 as Jamco Instruments. It was purchased by Dr. Jack Lee, our present CEO, in 1984 and the name changed to Jamco Aerospace Inc. Under his guidance, the business has flourished and expanded significantly.
Jamco now specializes in fabricating complex and precision machined components well as riveted sub-assemblies used military and commercial enterprises.
The Company performs a wide range of primary and secondary functions from Engineering down to final assembly and finishing operations utilizing sources in the immediate geographical area. A significant milestone occurred in the first quarter of 2005, Jamco successfully completed the certification process required for AS 9100. Our mission, under this certification is "to continually supply precision machined parts and assemblies on time to our customers".
Presently, Jamco has implemented a "lean manufacturing program" where evaluation, planning, and "state of the art" manufacturing methods are introduced at the time of contract award. Jamco is totally committed to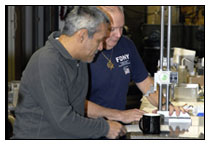 customer satisfaction and continual improvement in a company wide effort to provide the best possible service to the customer.
In addition, Jamco has defined and documented a quality policy that provides a framework for establishing, reviewing and implementing all pertinent objectives of the company. These being, 100% on time delivery, 100% quality inspected parts and 100% customer satisfaction.